Ordering Checks
If you are ordering checks for the first time, please contact us at 877-90-MYDCU, or fill out our
online form
, to request checks. After your initial order, you will be able to reorder checks at any time by clicking "Order Checks" on the red bar on home page of DCU Online home banking site.
Checks come in a box of 150 and you can choose from single or duplicate checks. Singles cost $16.68 and duplicates cost $18.63. The payment will be debited from your checking account.
Direct Deposit
To set up direct deposit, you will need your account number which can be found on your checks, or on the "Manage Accounts" page within DCU Online home banking. You will also need our routing number, which is 263 181 449.



ATM and Debit Cards
If you did not request an ATM card at the time of your account application (online application has a request where box must be checked for order to be placed), and would like one, please call us at 877.90.MYDCU to request a card.
To report a lost or stolen ATM/ debit card and request a replacement, call 800-528-2273.
You have the option to select your own pin for you debit card. If you would like to change your pin, call 800-851-4859.
Switching Accounts
If you have accounts at another financial institution and would like to switch them over to DCU, click here for our helpful Switch Kit. You'll find a step by step guide for transferring direct deposits, automatic payments, etc. with a checklist to make sure you don't miss a beat.


Overdraft Protection
You can choose to have overdraft protection by linking your checking account to your savings account. If there are not enough funds in your checking for an item to clear, we will transfer the funds from your savings to cover the item. Please refer to the most recent Schedule of Fees for the Overdraft Transfer from Savings fee.


Lost or stolen credit card
To report a lost or stolen credit card, call 800-808-7230.


Viewing credit card transaction details
Manage your credit card account 24/7 at
www.DCUVisa.com
. You will need to enroll the first time using your card number and some personal information for verification.
DCUVisa.com allows you to:
View account balances and transaction details
Check available credit
View current and past statements
Search and view up to 18 months of transaction history
Pay your bill online
Receive e-mail or mobile alerts of conditions or events affecting your account
Balance Transfers
Request Form:
To request a balance transfer, simply
click here
and fill out our balance transfer request form. We will take care of the rest.
By Phone:
Transferring balances to your DCU card is a simple phone call to 800-808-7230.
By Check:
If you are a new cardholder, you should receive balance transfer checks in the mail within two weeks after receipt of your credit card. Please note that you must have activated your card in order for balance transfer checks to be processed.
If you are an existing cardholder, you should receive balance transfer checks periodically throughout the year in addition to one check with each monthly statement in the mail.
DCU Audio
DCU Audio is our 24/7 automated teller phone banking system. To access phone banking call 877.90.MYDCU (877.906.9328), choose English or Spanish and select option 3 (automated attendant).
To access your account you will need your member number and PIN. Your default PIN is the last four digits of your social security number. You have the option to change your pin in the Account Management menu.
DCU Audio Phone Tree
Here are the available commands in DCU Audio
Account Information (balance, history and future dated transactions)

Account Management (card services and pin change)

Funds Transfer

Interest Rates

Stop Payments

Share/Loan Withdrawals
DCU Mobile
With DCU Mobile you can safely and securely view account balances, review transaction history, pay bills (Bill Pay for checking accounts only) or transfer funds anytime, anywhere. You can also get balances and recent activity via text message.
Before using DCU Mobile for the first time, you must log in to DCU Online, select Settings and enable the mobile web and text alert settings for your account(s).
Accessing DCU Mobile Site
Make sure you have enabled the mobile web settings for your account(s) under the Settings tab on DCU Online home banking. Then simply point your mobile browser to
www.dcumobile.com
We like making things easy, so simply scan this QR code with a QR reader on your mobile device to go directly to DCU Mobile. Are you thinking to yourself, "Self, what is a QR code"?
Click here
for some info on what QR codes are and some great ways they can be used.
Mobile Banking Apps
Darden Credit Union offers a DCU Mobile app for iPhone and Android devices. It is a free download. Make sure you have enabled your mobile web settings through online banking before downloading the app.
Scan the QR code below with a QR reader on your phone to go directly to our DCU Mobile app on App Store or Google Play.
Text Banking
To use text banking, please log into DCU Online, select the Settings tab, and select DCU Mobile. Enable Mobile Text Settings by filling out the required fields. After agreeing to the mobile terms of service you will be given a mobile validation code that you must text to 89549 in order to authorize this service and opt in.
DCU short code: 89549
Text Alert Commands:
Bal=All Acct Bal
Bal Acct Name=Single Acct Bal
Hist=All Accts Recent Activity
Hist Acct Name=Single Acct Activity
Help=Commands
Stop=Cancel
Logging into DCU Online
DCU Online is our full-service online banking. View transaction history and account balances, transfer funds, pay bills and more all from the comfort of your couch.
To log in to DCU Online for the first time use the following temporary information:

User name: DCU + Primary Account number (ex. DCU123456)
Password: Last four digits of primary account holder's social security number
Upon login, you will be prompted to change your password and identify a password reset question and answer.
For detailed instructions on using DCU Online home banking,
click here
for our user guide.
Bill Pay (for checking accounts)
Bill pay enables you to easily manage all your bills from one convenient location. You can set up single or recurring payments for bills, transfer money to another account or person, donate money to a charity or even send a gift check to wish someone special a Happy Birthday. Access Bill Pay by logging into your DCU Online account. You must have a DCU checking account in order to register for Bill Pay.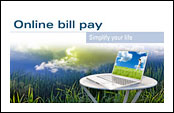 DCU Online User Guide
For detailed instructions on using DCU Online home banking, click here for our user guide.


Paying your DCU loan
You can pay your DCU loan through DCU Online, Mobile or Audio by transferring funds from one of your other DCU accounts into your loan account.
If you would like to pay your loan with funds from another financial institution, you may use their bill pay service (if available) to transfer your payment into your DCU loan account.
You can pay your loan with cash or check at any of our partner shared branching locations; find locations near you
here
. Make sure to have photo ID, your member number, and your Loan ID number.
You may also mail your monthly payment, via check or money order. Please make sure to notate your loan account number on the check and mail to:
Darden Employees Federal Credit Union
1000 Darden Center Dr
Orlando FL 32837
Late payments and late fees
If your payment is received more than 10 days after the due date, a Late Fee of 10% of your payment amount or $20 (whichever is higher) must be added to your payment in order to bring the account current.
(Consumer loans only. Visa payments are due on the date listed on statement, with a late fee of $25.)
Visa TravelMoney Reloadable Card
The Visa Travel prepaid debit card offers you the safety of travelers checks with the convenience of a plastic card. By using this card for travel, you will take advantage of:
Emergency card replacement

Zero liability protection

Lost luggage reimbursement

24/7 online account management

Acceptance anywhere Visa debit cards are accepted worldwide, including ATMs

No monthly maintenance fee

Reloadable from $100 to $5,000
To view your card's account balance or to load with additional funds
click here
To purchase a Visa Travel reloadable card, please visit a DCU branch. You may purchase a card for $10 and reload with balances between $100 to $5,000. Please see your cardholder agreement for a complete list of fees.
Gift Cards
We have VISA gift cards available for purchase in-branch. You can purchase in values between $10 and $500.


Everyday Spend Prepaid Card
Personalized prepaid cards are a great feature for those looking to manage and control monthly spending, or for parents looking for a responsible way to provide funds to a child at college or away from home. These cards are embossed with your name, and can be used for point-of-sale pin and signature transactions as well as at any ATM that accepts VISA, Plus, Pulse or Co-Op.
You can purchase a card for $10, and reload at any time with amounts from $10 to $5,000 from your DCU savings account.
Please refer to your cardholder agreement for a list of fees. Here are some common fees to be aware of:
$0.50 - Reload fee

$1.75 - Monthly fee

$1.50 - ATM withdrawal fee

$0.50 - Inquiry fee at ATM (free online)

$5.00 - Inactivity fee (begins in 4th month of inactivity)
To purchase a prepaid spend card, call us at 877.90.MYDCU (877.906.9328)
To reload your card,or check balances and transaction history,
click here
.
eStatements
View your statements online at anytime…and save trees while doing it. Sign up for eStatements by logging into DCU Online and selecting the eStatements tab. You'll be able to view up to 24 past statements online. Each month you'll get an email letting you know that a new statement is available for viewing. Plus, you can always print out a hard copy of your statement if you really want to.


Incoming Wire Transfer
Instructions for incoming wire transfers to your Darden Credit Union account:

Wire to:
Corporate America Credit Union
4365 Crescent Road
Irondale, AL 32510
Account # 262090120

For further credit to:
Darden Employees Federal Credit Union
1000 Darden Center Drive
Orlando FL 32837
Account # 263181449

Final Credit to:
Member Name
Account Number